Step forward! The NYC Kidney Walk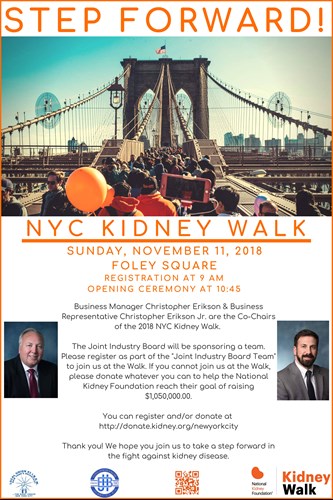 Business Manager Christopher Erikson & Business Representative Christopher Erikson Jr. are the Co-Chairs of the 2018 NYC Kidney Walk. 
Registration begins at 9 AM followed by the opening ceremony at 10:45 AM.

The Joint Industry Board will be sponsoring a team. Please register as part of the "Joint Industry Board Team" to join us at the Walk. If you cannot join us at the Walk, please donate whatever you can to help the National Kidney Foundation reach their goal of raising $1,050,000.00.

You can register and/or donate at http://donate.kidney.org/newyorkcity

Thank you! We hope you join us to take a step forward in the fight against kidney disease.